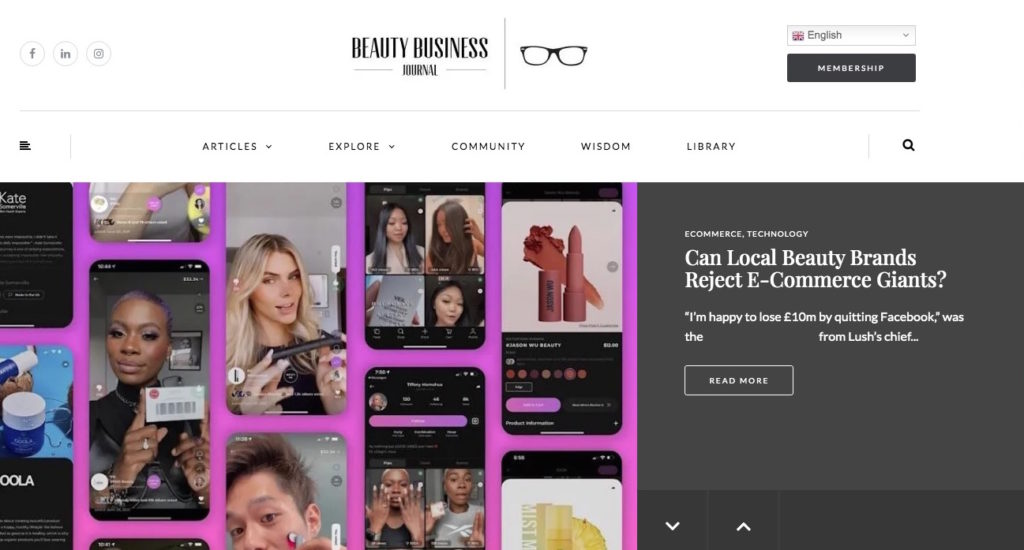 If you're ready to tackle a paywall, this article for an international beauty journal based in Britain has rewards at the end of the tunnel. The article heavily draws on Tobin's expertise at the intersection of Main Street and technology networks. Since we can't republish the article in full, you can find the paragraphs that include quotes and insights by Tobin Brogunier, CEO of Virtual Storefronts, here

To read the full article visit https://beautybusinessjournal.com/beauty-brands-reject-e-commerce-giants/
"Local merchants are the people online shoppers have been waiting for. They have no skin in the data mining game, so they aren't going to invade your privacy. Merchants are community builders by trade, community leaders by default."

Tobin Brogunier in "Can Local Beauty Brands Reject E-Commerce Giants?," November 30, 2021
For local brands, it's possible that rejecting the likes of Facebook and Google as key channels could have a positive influence on sales, instead of making it more difficult to connect with customers. But in order to take advantage of any benefits of avoiding those major platforms, brands need to be very clear on their reasons for doing so, and have a solid sales funnel in place to maximize conversions via lower-traffic e-commerce routes, and in stores. Tobin Brogunier, an expert in the effects of technology on independent US retailers and founder of shopping platform Virtual Storefronts, told BBJ that the big tech companies do not work for their merchant users — but instead, make merchants work for them.
According to Brogunier, those companies collect brand data and roll out functions to encourage brands to provide them with more data; but give no real concern to whether or not brands are able to effectively convert sales. Instead, "merchants are treated as content and sponges to be soaked for cash," he said. "A small percentage of local merchants who understand how to use these complex systems can survive and even thrive," but even for those businesses that do successfully work the system, "these tools still require an excessive amount of time, the most scarce resource of the local merchant."
In other words, the seemingly straightforward process of setting up an e-commerce business that operates through the current standard search engines and social media platforms appears, on the surface, to be a no-brainer. But the reality for local brands, with limited marketing budgets and niche audiences, is that the returns are not equal to the resources the brand must put in, if it wants to compete in those highly saturated spaces. They do the work, furnish the platform with valuable brand and customer data, and the platform capitalizes on that — but the brand might not enjoy the rewards of their work to the same degree that the platform does. And Brogunier suggests that a growing number of brands across industries are opting out for this reason.
When it comes to the question of whether or not a local brand can thrive without having an active presence on major marketing and e-commerce platforms, Brogunier said "everything depends on your network." From word of mouth and dark social, to effective email marketing or a physical local presence, the process of brand-building beyond the current mainstream routes is intensive — but it can be rewarding. "Local merchants have a tremendous amount to offer the shopper of the future," Brogunier pointed out, adding that we need "to focus on these advantages right now."
"Local merchants are the people online shoppers have been waiting for. They have no skin in the data mining game, so they aren't going to invade your privacy. Merchants are community builders by trade, community leaders by default."