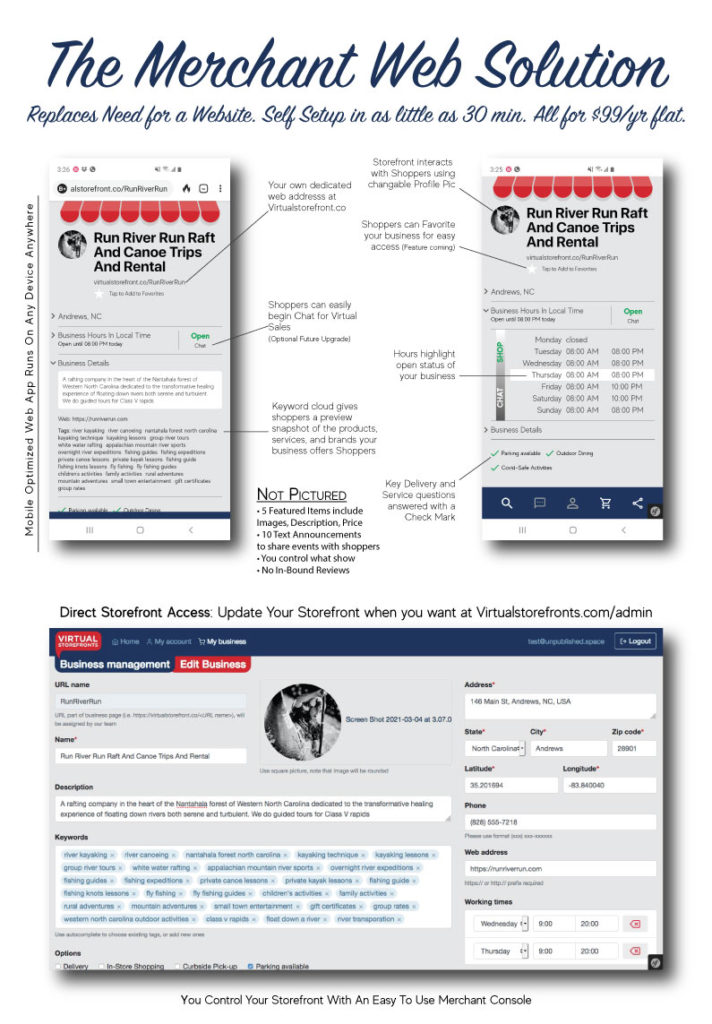 Your Storefront Is Basically Awesome
And Your Storefront Can Take Sales Virtual Later, If You Want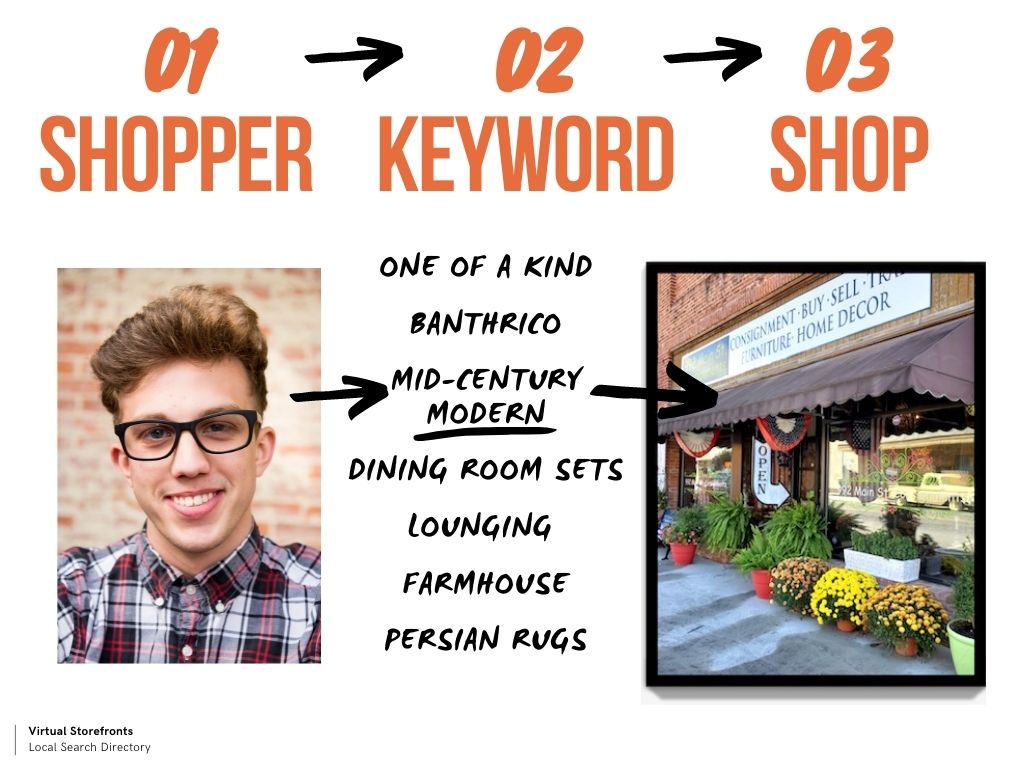 Not "Another Thing To Manage"
Your time as a business owner is limited, we build technology that respects that fact. Solving problems means not giving you unnecessary technology problems to manage and more online chores. Virtual Storefronts pull shoppers to your business for you. Your Storefront is your outgoing company brand and information, not an inbound review site.
A Permanent URL Address You Can Rely On
Virtualstorefronts.com/YourBusiness is your custom URL and Virtual Storefront. We also call this your "Business Profile" since your business appears to customers across the Virtual Storefronts platform. 
A Beautiful Web Page You Control
For many businesses, your Virtual Storefront will eliminate the need for a website because this dedicated URL is your custom built calling card that anyone in the world can find and browse that shows the world you are aligned with other local businesses in a local-only directory. In addition, your Virtual Storefront is a publicly published Search Engine Optimized dedicated-to-your-business web page full of keywords about your business that search engines like Google can find.
Respect Your Shopper's Privacy
USpace, the Atlanta technology company that makes Virtualstorefronts.com, has a simple mission, "Solve Problems, Protect People." By joining Virtualstorefronts.com, you are telling your customers that you respect their privacy by choosing USpace, an independent privacy, security and safety technology company. Read the USpace.co Vision Statement here. 
Optional Upgrade: Sell Anything Virtually Without Posting It Online
Your Storefront will also be your customer's gateway to our optional Chat & Checkout upgrade coming as early as 2022, where you can interact with customers to find out what they want and sell virtually by simply writing up their order. They make the purchase with a single tap. This service will be available for a flat-rate with no commission or hidden expenses. 
Stop Pulling Your Hair Out Over Online Reviews
The online review system has been co-opted by the public for retribution in so many ways it's hard to count: Revenge reviews, fake competitor reviews, online mob attacks. So we just got rid of reviews entirely. That was easy. And your life is better.
Your Storefront Tells The Story Of Your Shop
When a shopper finds your business searching for one thing, the keyword cloud on your Virtual Storefront will tell them a whole lot more about what they can discover at your shop.
Your Storefront is loaded with key information about your business like location, hours, phone number, web presence and available delivery options – yet requires almost no maintenance
USpace Mission: Solve Problems, Protect People
Virtual Storefronts is powered by USpace privacy, security and safety network. We will resume onboarding businesses as our market service area expands in 2022. Please add your email here to be notified as we expand and enrollment restarts