THE $99 WEB SOLUTION FOR LOCAL BUSINESS THAT'S ALSO A SEARCH RESULT FOR LOCAL SHOPPERS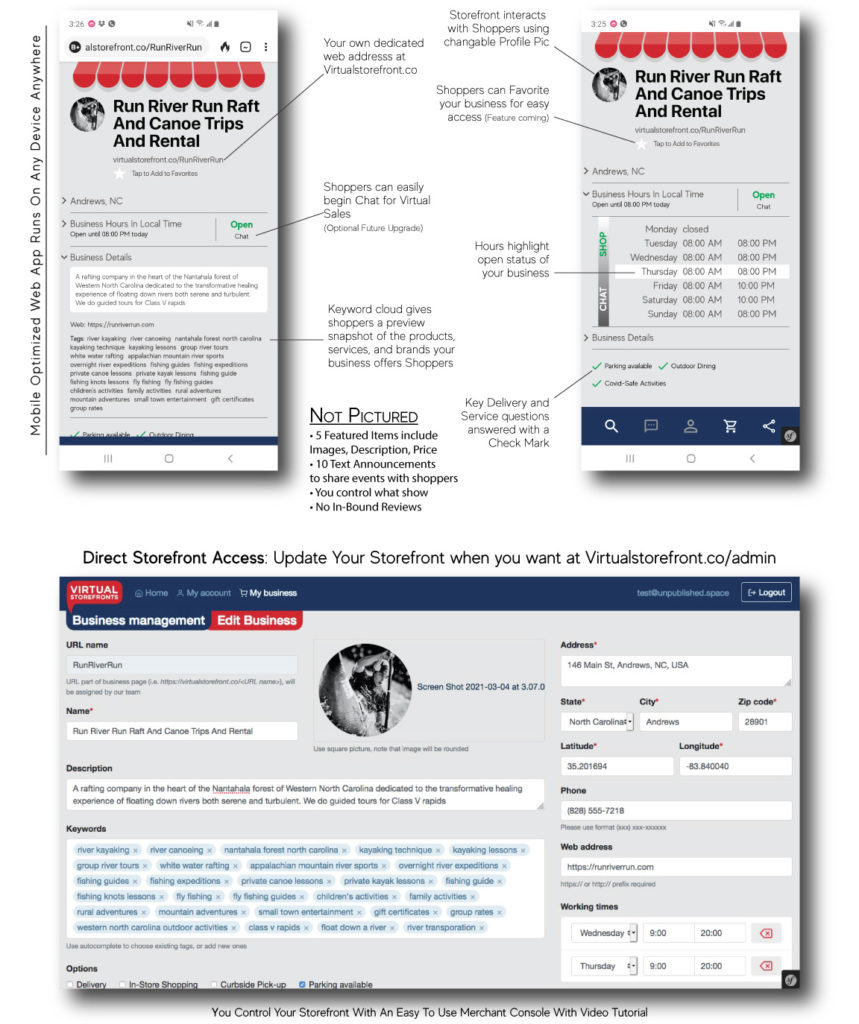 EVERY BUSINESS IS A TOP SEARCH RESULT BASED ON LOCATION
A SEARCH ENGINE WITH AN ALGORITHM WITH CLEAR RULES THAT ARE FAIR TO EVERYONE* EXCEPT ECOMMERCE AND BIG BOX CHAINS
NO ONE CUTS IN LINE. NO GAMES. NO GIMMICKS.
LOCAL SHOPS WORK TOGETHER IN A NETWORK TO CREATE DEEP INVENTORY THAT COMPETES DIRECTLY WITH ECOMMERCE ONLINE AND BIG BOXES FOR LOCAL DOLLARS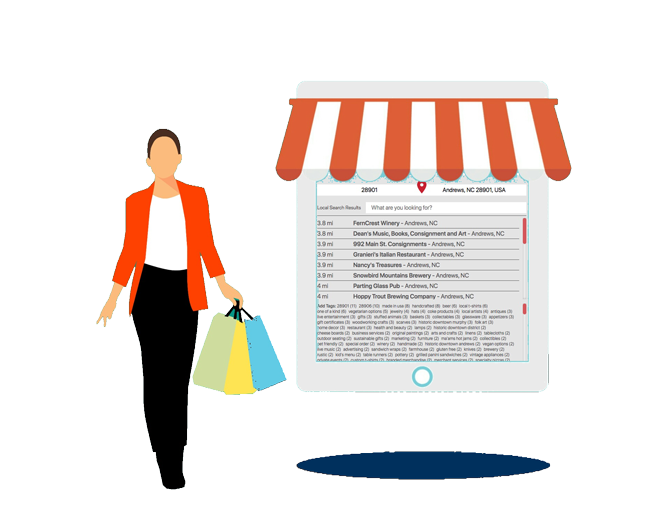 EVERY BUSINESS IS A TOP SEARCH RESULT BASED ON LOCATION
A SEARCH ENGINE WITH AN ALGORITHM WITH CLEAR RULES THAT ARE FAIR TO EVERYONE* EXCEPT ECOMMERCE AND BIG BOX CHAINS
NO ONE CUTS IN LINE. NO GAMES. NO GIMMICKS.
REPLACE AMAZON DRAIN WITH LOCAL GAIN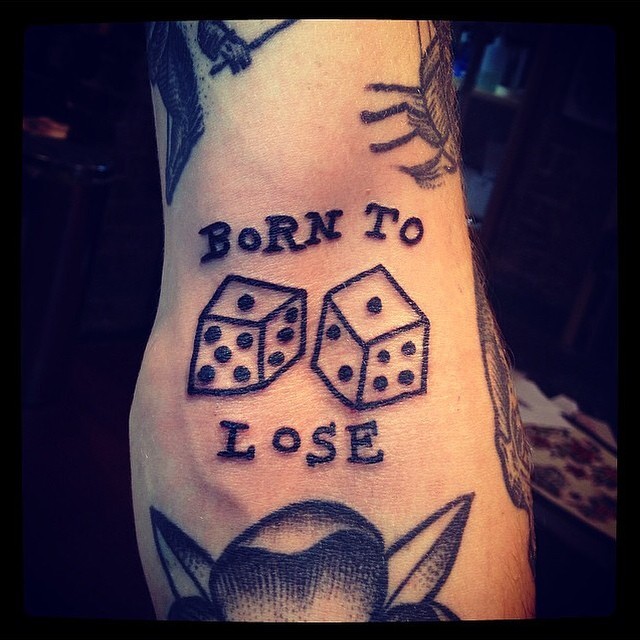 Silicon Valley keeps selling the wrong ecommerce solutions to local retailers and they might as well be selling local businesses a "Born to Lose" tattoo. When your online shopping experience tries to duplicate the sterile, self-serve shopping experience of Amazon.com and Walmart.com, your local business will lose every time.

Virtualstorefront.co flips the script to transform eCommerce for local businesses into a virtualized instore experience with Chat and Checkout, an optional upgrade we are currently developing right now. 86% of customers globally prefer to chat over any other way of doing business virtually. Local businesses have a monopoly on customer service, your Storefront is the future portal to ecommerce success on your terms.
We Know "Cheapest. Business Expense. Ever." But We're Obsessed With Rewarding Local Merchants With Layer Upon Layer Of Value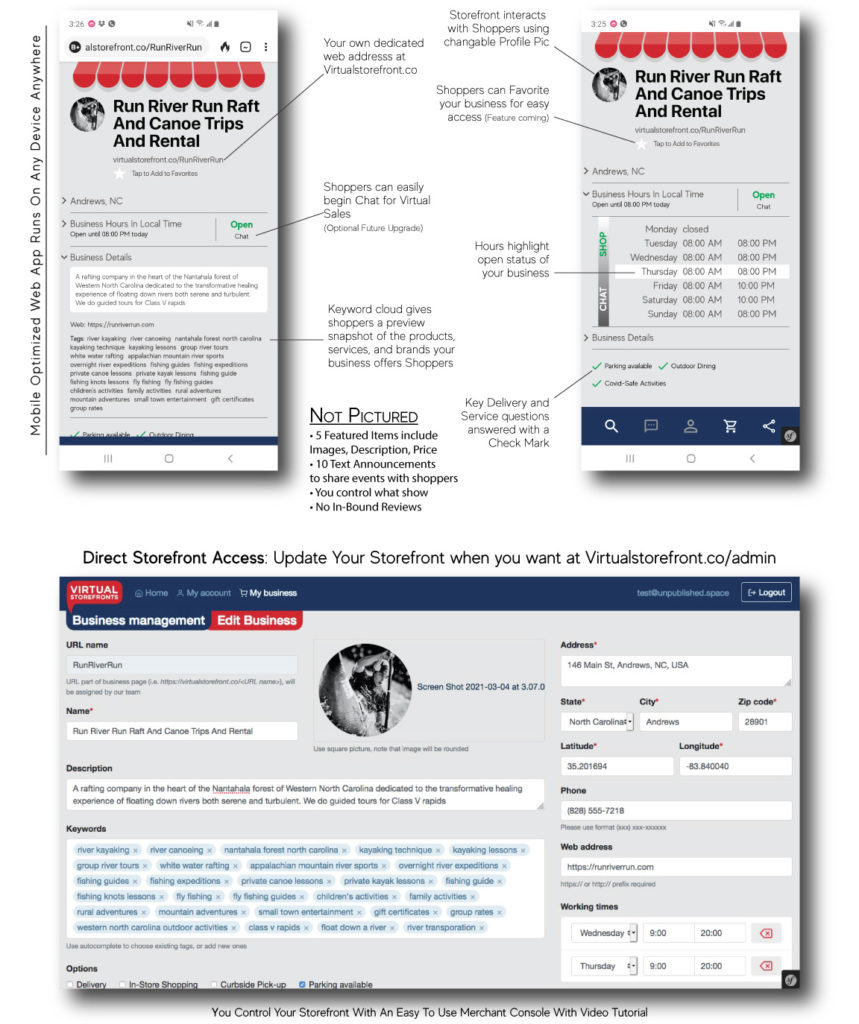 Create your Storefront Profile in 10 Minutes, Pay Later
Go to virtualstorefront.co/login and create a free account
Build Your Storefront and Save It
Buy Your Storefront Here And We'll Publish Your The Talk Of The Town, Cutting Edge Storefront And Mail You Your Door Badge

#GOOGLEFAIL: WHAT GOOGLE DOESN'T KNOW ABOUT ROBOWORMS COULD FILL A SEARCH ENGINE
Google is the Yellow Pages that boxes your business in a category but doesn't know what you offer. And if it happens to know some of what you offer, no one knows how you got there and Google has no obligation to include you now or the future. 
 – Google has become unreliable
 – we are fair to every business 
 – we are transparent in how you are a result
 – there is no guesswork 
 – our search results are fair

THE QUESTION ISN'T 'HOW WILL PEOPLE FIND OUT ABOUT VIRUTALSTOREFRONT.CO?'
THE QUESTION IS 'HOW CAN PEOPLE NOT FIND OUT ABOUT VIRTUALSTOREFRONT.CO' IN A WORLD WHERE BIG TECH IS FAILING US EVERY DAY

Our story is the story of revolutionary shop local consumer tech taking off in rural America
Our YouTube Campaign Is Teaching The General Public About Virtualstorefront.co

Over the month of February, the general public chose to watch our promoted videos on YouTube about 1 out of 4 times they are shown, a very high rate of engagement. 
Perhaps even more extraordinary, viewers who chose to watch are watching our videos all the way to the end over 11% of the time. Videos from 3 to 27 minutes long.
Our aim going forward is to capture the popular imagination in traditional and social media as we are already doing on YouTube.

Your Storefront Is Basically Awesome
And Your Storefront Can Take Sales Virtual Later In 2021, If You Want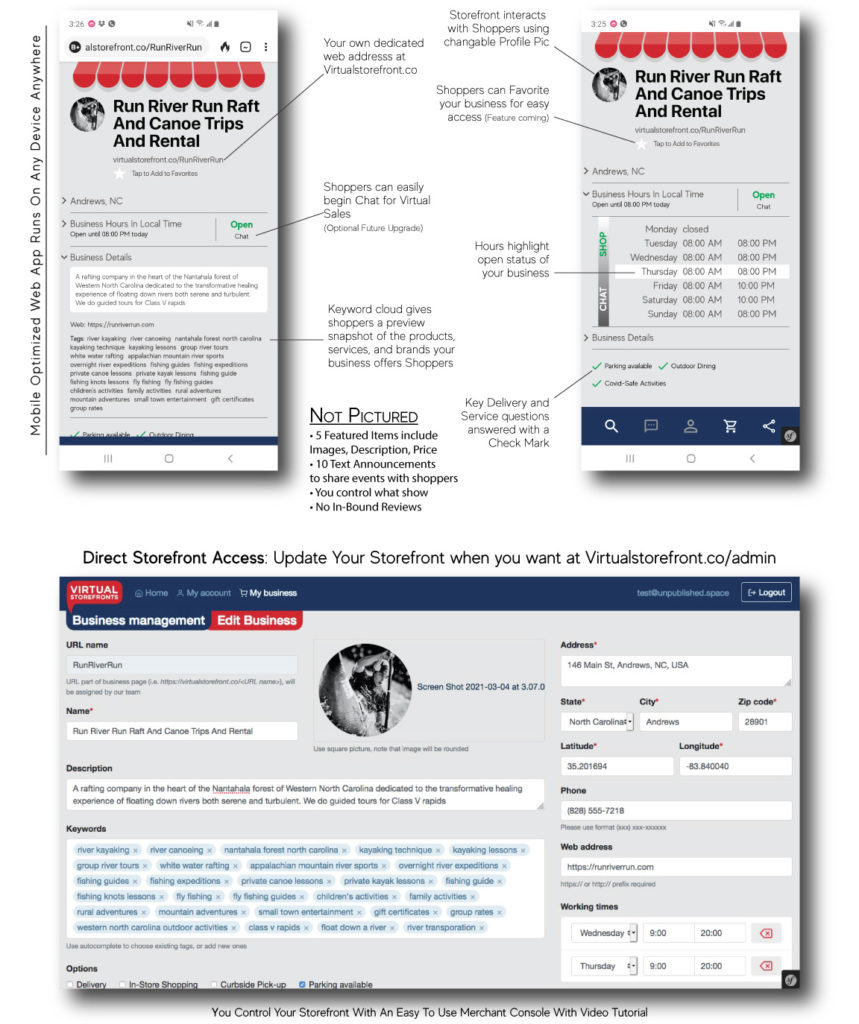 Not "Another Thing To Manage"
Your time as a business owner is limited, we build technology that respects that fact. Solving problems means not giving you unnecessary technology problems to manage and more online chores. Virtual Storefronts pull shoppers to your business for you. Your Virtualstorefront.co is your outgoing company platform, not an inbound review site.
A Permanent URL Address You Can Rely On
Virtualstorefront.co/YourBusiness is your custom URL and Virtual Storefront. We also call this your "Business Profile" since your business appears to customers across the Virtual Storefronts platform. 
A Beautiful Web Page You Control
For many businesses, your Virtual Storefront will eliminate the need for a website because this dedicated URL is your custom built calling card that anyone in the world can find and browse that shows the world you are aligned with other local businesses in a local-only directory. In addition, your Virtual Storefront is a publicly published Search Engine Optimized dedicated-to-your-business web page full of keywords about your business that search engines like Google can find.
Respect Your Shopper's Privacy
USpace, the Atlanta technology company that makes Virtualstorefront.co, has a simple mission, "Solve Problems, Protect People." By joining Virtualstorefront.co, you are telling your customers that you respect their privacy by choosing USpace, an independent privacy, security and safety technology company. Read the USpace.co Vision Statement here. 
Optional Upgrade: Sell Anything Virtually Without Posting It Online
Your Storefront is also your customer's gateway to our optional Chat & Checkout upgrade coming later in 2021, where you can interact with customers to find out what they want and sell virtually by simply writing up their order. They make the purchase with a single tap. This service will be available for a flat-rate with no commission or hidden expenses. 
Stop Pulling Your Hair Out Over Online Reviews
The online review system has been co-opted by the public for retribution in so many ways it's hard to count: Revenge reviews, fake competitor reviews, online mob attacks. So we just got rid of reviews entirely. That was easy. And your life is better.
Your Storefront Tells The Story Of Your Shop
When a shopper finds your business searching for one thing, the keyword cloud on your Virtual Storefront will tell them a whole lot more about what they can discover at your shop.
Your Storefront is loaded with key information about your business like location, hours, phone number, web presence and available delivery options – yet requires almost no maintenance.

Join Our Cherokee County Early Adopters
A Few Of Our Merchant Partners Who Are #1 Search Results At Virtualstorefront.co

Take Your Business Into The 21St Century At Warp Speed For Just $8.25/Month
Enroll Early Now And Your Listing Can Be Live In 24 Hours
We Offer Flat Rate Services Because We Know What It's Like To Run A Business; Our CEO Has Been Working With Local Businesses Since 1989.
[supsystic-price-table id=13]
Discounts Available For Business Owners With Multiple Businesses Or Locations
Frequently Asked Questions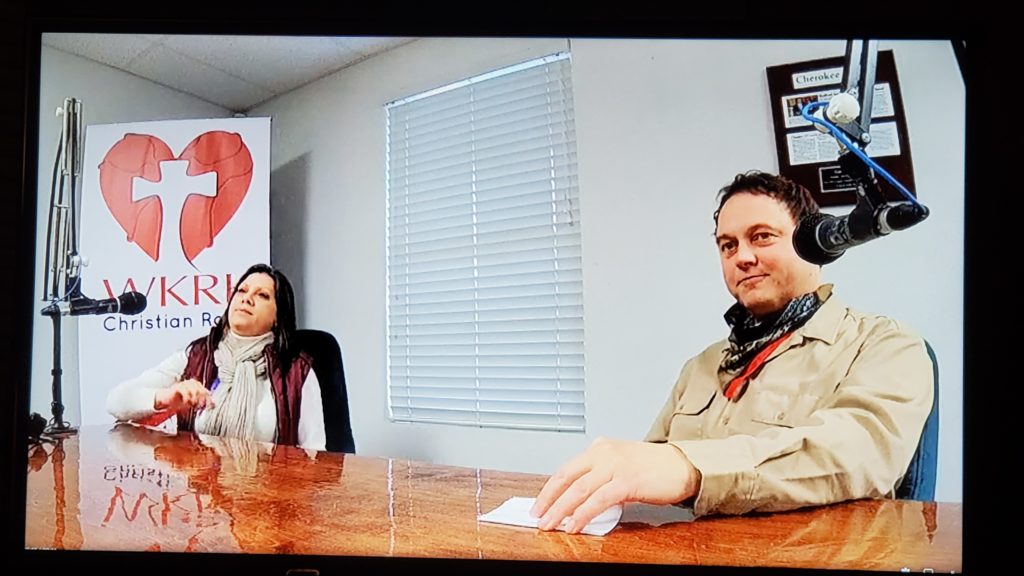 USpace Mission: Solve Problems, Protect People
Track The Virtual Storefronts Story With USpace /Notification Email Newsletters. USpace Is The Company Building Virtualstorefront.co And The Future Of Secure, Private and Safe Business Online. Recommended For Shop Local Fans, Merchants, and Fans Of The Next Digital Economy.